The Skills of The Future are Smart and Sharp
Whitepaper Launch by Professor Loredana Padurean
Virtual Event | December 15, 2021 | 11:00 AM until 11:50 AM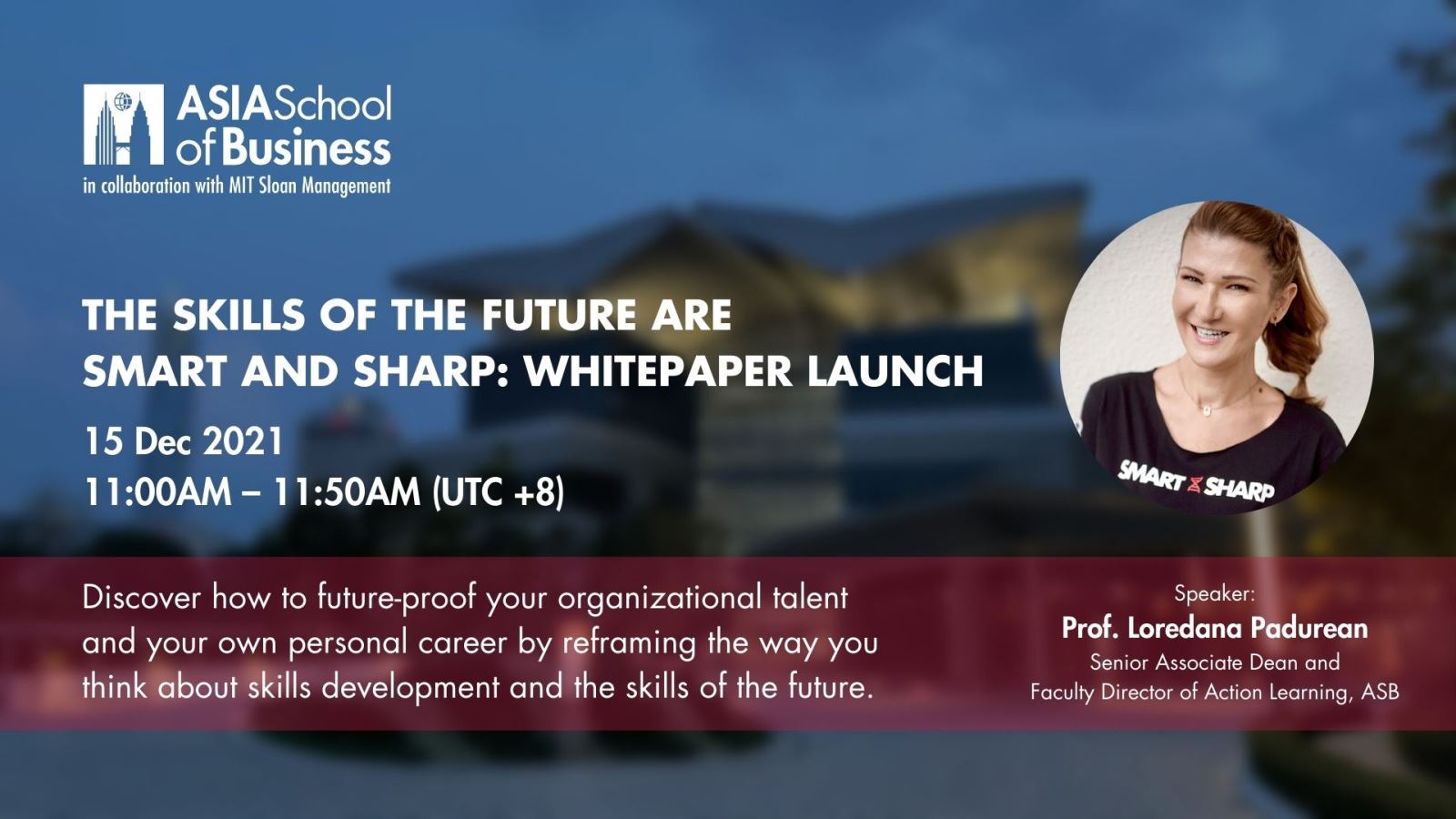 About the Whitepaper
"What are the skills of the future? What skills should I invest in?

This is the question on everyone's mind. Especially with the advent of digital transformation, this question is even more critical: is artificial intelligence the answer to all problems? Is fintech the domain we should all study? Do we need to learn automation and data analytics? What are the hard skills of the future? And do soft skills still matter?

But what if, before we answer the main question "What are the skills of the future?" we start by simply moving away from "soft and hard" to a more contemporary definition that we at Asia School of Business call "smart and sharp"?

In today's post-pandemic world, we've seen that change is a constant. "Hard" skills are not rigid and inflexible. We cannot say once you have learnt these skills, you are done. Skills like digital literacy need to be sharpened constantly.

Likewise, there is nothing "soft" about responding to unprecedented challenges with diplomacy. It takes intelligence to negotiate with and manage people – hence we call them smart skills.

What if the answer to being future-ready lies in the convergence and co-existence of smart AND sharp skills? Leaders who are cognitively ready and understand system dynamics, who have high emotional maturity but practice science-based management, and who develop both multiple perspectives and invest in digital literacy?

What if today we need to invest equally in followership as we do in data analytics? And isn't humility a pre-requisite to strategic formulation?

During the launch of her brand-new whitepaper, Prof. Loredana Padurean, Senior Associate Dean and Faculty Director of Action Learning at Asia School of Business, proposes four new ideas:
A new framework to redefine the skills of the future as smart and sharp.

 An argument that smart skills can be taught with the right approach.

The top 10 Smart and the top 10 Sharp skills of the future.

The need for convergence and co-existence of smart and sharp.
At ASB, our aspiration is that this new framework, along with the skills proposed, will open a conversation about the kind of future we want – a future where we are all a bit smarter and a little sharper! Maybe the future is #schmart?!